The Locksmith Phoenix, AZ
We're on call 24/7 for all your lock and key needs.
Residential Locksmith Phoenix, AZ
Keeping your home safe is a top priority. When you need a reliable locksmith for all your home locksmith needs, look no further than Old Glory Locksmith in Phoenix, AZ. We perform door hardware installation, smart lock installation, lock rekeying, deadbolts, door repair, safe opening, and a wide array of other residential locksmith services.
When you find yourself locked out of your own home, you will likely feel panicked and want to do anything to get back inside. Before your try and break into your home, you should call an experienced locksmith. Old Glory Locksmith provides 24-hour locksmith service and we'll come to you with the tools needed to pop the lock and get you safely back into your house. Plus, if you need a new key, we can generate one on the spot.
Commercial Locksmith In Phoenix, AZ
As a business owner, I know how important it is to ensure your business is always secure. It's important that your locks and doors are in good working order and extra security measures are taken to secure areas of your building. You can depend on Old Glory Locksmith to provide you with top-notch commercial locksmith services. We provide unlock, lock repair, door repair, safe opening, and many other commercial services. Oh, and we also offer mailbox lock rekeying and replacement.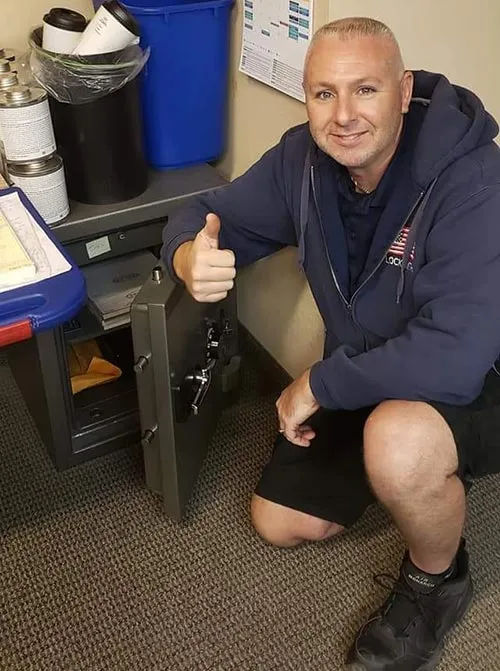 Old Glory Locksmith owner Cory Bahr kneeling next to the safe we successfully opened for a client. Having someone reliable to open your jammed safe is vital when you need your valuables fast.
Access and Key Control Systems
If your business contains secure areas, then you will benefit from having a master key system. There is nothing more cumbersome than having a key for every lock in the building. Not only is it frustrating, but it's time-consuming to figure out which key goes to what lock. Old Glory Locksmith can make a master key system enabling you to use one key for every lock in your building.
Automotive Locksmith For Car Lockouts
If your car leaves you stranded, Old Glory Locksmith is there in your time of need. It doesn't matter if you're locked out, we've got you! If you're locked out of your car in Phoenix, we'll use our years of skills and experience to get you back in quickly.
Many homes and businesses contain safes. Safes are super helpful for storing documents, cash, jewels, and guns. If you have a problem with your safe, we can help. Most of our customers call when they've lost the combination, their keypad doesn't beep, the safe is locked, or they need to change the combination. We offer safe installation, safe unlocks, and more. If you are ever locked out of your safe give us a call. We have the tools necessary for safe opening and cracking. 
Your Trusted Phoenix Locksmith
If you're looking for a local locksmith with a proven reputation, then you'll find what you need by contacting Old Glory Locksmith in Phoenix, AZ. We are a veteran-owned locksmith business with over 10 years of experience. We only use high-quality lock and safe hardware from trusted brands such as Schlage, Kwikset, Amsec, and Adams Rite, All hardware comes with a two-year warranty. We are passionate about locksmithing and take pride in the affordable services we provide. Call us for 24-hour emergency locksmith services in Phoenix, AZ, and the surrounding area. We offer amazing discounts to fellow veterans!