Full-Service Locksmith In Mesa, AZ
We're on call 24/7 for all your lock and key needs.
Commercial Locksmith Serving Mesa, AZ
You've worked hard to build your business so it's imperative to keep it secure at all times. Look no further than Old Glory Locksmith in Mesa, AZ, for all your commercial locksmith needs. From door hardware installation, lock repair, safe opening, to master key systems and business unlocking services, we've got you covered.
Master Key System Can Help Key Control
If you have more than one lock in your building, then you are probably carrying around several keys. Sifting through all those keys is cumbersome and time-consuming. You can save valuable time with a master key system. This will allow you to unlock every secure area with a single key. Plus, with an IC core system, changing and rekeying locks is much faster and less expensive.
Are You Locked Out Of Your Car?
If you've ever locked yourself out of your car then you know the feeling of panic it incites. But, before you break into your own car and cause major damage, call the professionals at Old Glory Locksmith. We'll come to you in our marked truck with our 24-hour emergency locksmith service. With us, we will bring handy, specialized tools to safely open your car and get you on your way.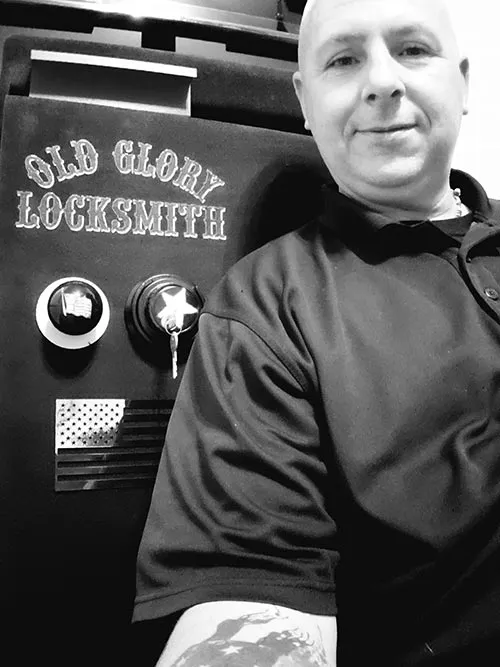 Old Glory Locksmith owner Cory Bahr standing in front of a safe with our company logo. We love being the go-to locksmith for Mesa, AZ.
Whether you need new locks, lock rekeying, lock repair, lockout service, door hardware installation, door repair, doorknobs, or other residential services, you can rely on Old Glory Locksmith in Mesa, AZ. We are going to get the job done right the first time.
Lock Rekeying: Disassembly Required
One service that may be of interest to you if your home security has been breached is lock rekeying. This is a great option, especially if your existing locks are in good condition. You should consider lock rekeying if:
Your home was burglarized.
Tenants are moving out.
You've lost your keys.
Your keys were stolen.
Tenants are moving out.
The purpose of rekeying the locks is to ensure old keys no longer work. The locks will be rekeyed to work with new keys simply by removing the lock, rearranging the pins, and boom! The new keys work and the old ones are useless.
The Best Safe Locksmith In Mesa
It's common for homes and businesses to have a safe. If you're looking for a reliable safe locksmith in Mesa, AZ, then look no further than Old Glory Locksmith. We can install any type of safe. If you forget the combination, we can open the safe without damaging the safe or your valuables inside.
Your Mesa Locksmith Is a Call Away
If you want a local locksmith, then contact Old Glory Locksmith in Mesa, AZ. We are a veteran-owned company with 10+ years of experience. We use trusted hardware from Schlage, Amsec, Adams Rite, and Kwikset. All of which come with a two-year warranty. We are passionate about our business and take pride in providing reliable and affordable services. Fellow veterans who call receive great discounts. Contact us for 24-hour emergency locksmith services in Mesa, AZ.