We all know the feeling of being locked out of our homes or cars, and it's not a pleasant experience. That's where a 24-hour locksmith comes in handy. A professional locksmith provides services round the clock and can help you with any lock-related issue. In this blog, we will explore the services of a 24-hour locksmith in detail. From understanding their role to discussing emergency services, residential and commercial locksmith services, and the benefits of hiring them, we've got you covered. We will also provide tips on choosing the right 24-hour locksmith for your needs so you can rest assured knowing your security is in good hands.
Understanding the Role of a 24-Hour Locksmith
When it comes to securing your property and ensuring the safety of your loved ones, the services of a 24-hour locksmith in Glendale, AZ, are invaluable. These professionals are well-equipped to handle lock and key issues, providing round-the-clock assistance and peace of mind. Their role extends beyond simply unlocking doors; they possess many responsibilities and capabilities.
A 24-hour locksmith in Glendale, AZ, is trained to handle emergencies efficiently. Whether you find yourself locked out of your home or car in the middle of the night or encounter a broken lock during odd hours, a 24-hour locksmith is there to help. Their expertise allows them to quickly assess the situation and employ the necessary techniques to resolve the problem promptly. They possess in-depth knowledge of lock types and security systems, enabling them to efficiently handle various lock and key issues.
Emergency Locksmith Services
In Glendale, AZ, emergency locksmith services play a crucial role in ensuring the safety and security of both residential and commercial properties. These services provide immediate assistance when individuals are locked out of their homes, offices, or vehicles or encounter issues like broken keys or burglaries. Access to a reliable 24-hour locksmith can make a significant difference in stressful situations.
One of the primary reasons why emergency locksmith services are vital is their prompt response time. Whether it's the middle of the night or during a holiday, a 24-hour locksmith in Glendale, AZ, is available round the clock to assist. They understand that emergencies can happen anytime and are prepared to respond quickly to customers' distress calls. This immediate response ensures that individuals don't have to endure prolonged periods of being locked out or compromised security.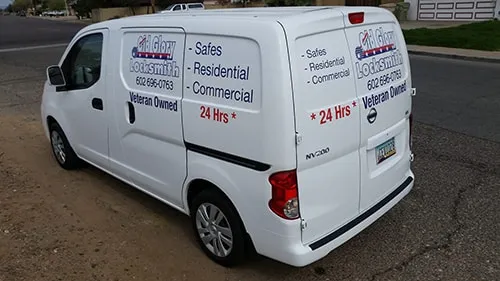 Benefits of 24-Hour Locksmith Services
Here are some key advantages of having access to a reliable 24-hour locksmith:
Round-the-clock availability: Emergencies can happen at any time, day or night. With 24-hour locksmith services, you have access to assistance 24/7. Whether you're locked out of your home in the middle of the night or facing a security issue during the weekend, a 24-hour locksmith is just a phone call away.
Fast response time: In an emergency, time is of the essence. 24-hour locksmiths prioritize quick response times to ensure that you receive assistance promptly. Their expertise and efficiency allow them to swiftly resolve lock and key issues, minimizing any inconvenience or potential security risks.
Comprehensive services: 24-hour locksmiths offer a wide range of services to meet your needs. They can handle various situations, including residential, commercial, and automotive locksmith needs. Whether you need lockout assistance, lock repairs or installations, key replacements, or security system upgrades, a 24-hour locksmith has the expertise and tools to address your specific requirements.
Expertise and experience: Professional 24-hour locksmiths undergo extensive training to acquire the necessary knowledge and skills. They have an in-depth understanding of different types of locks and security systems, enabling them to provide accurate solutions and recommendations. Their experience in the field equips them with the expertise to handle even the most complex lock and key issues.
Enhanced security: One of the primary benefits of 24-hour locksmith services is their heightened security. These locksmiths can assess the safety of your home, office, or vehicle and provide recommendations to strengthen it. From installing high-security locks to upgrading access control systems, they help ensure your property remains secure and protected.
Residential Locksmith Services
One of the primary services a 24-hour locksmith in Glendale, AZ, offers is lock installation. Whether you've recently moved into a new home or need to upgrade your existing locks, a residential locksmith can provide professional installation services. They have the knowledge and tools to install various types of locks, including deadbolts, smart locks, and high-security locks, ensuring that your home has reliable and sturdy locks to deter potential intruders.
A residential locksmith can also handle lock repair. If you're experiencing issues with your locks, such as jammed or malfunctioning, it's crucial to have them repaired promptly. A 24-hour locksmith can assess the problem and provide efficient repair solutions to restore the functionality of your locks, ensuring that your home remains secure.
Rekeying is another vital service offered by residential locksmiths. Rekeying can be a cost-effective solution if you've misplaced your keys, experienced a break-in, or want to enhance your home's security. Instead of replacing the entire lock, a locksmith can rekey the existing lock to render previous keys useless and create new keys that work with the same lock. This process provides security by ensuring only authorized individuals can access your home.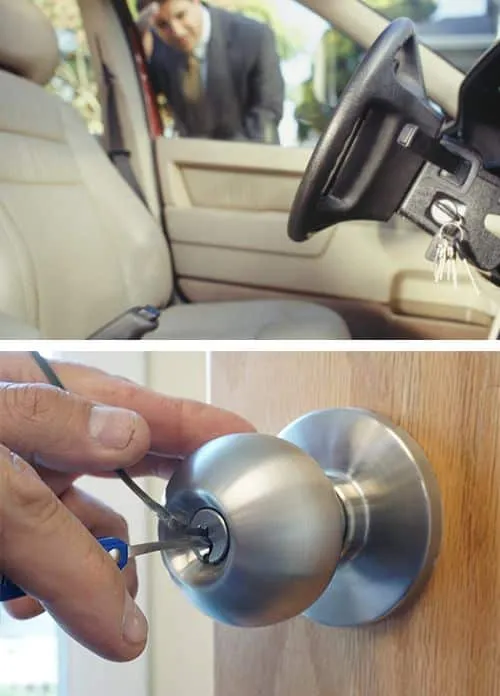 Commercial Locksmith Services
Security is of utmost importance for businesses in Glendale, Az, and having a reliable 24-hour locksmith is crucial in ensuring the safety of commercial establishments. From access control systems to high-security locks and assistance during commercial lockouts, a 24-hour locksmith offers a range of services specifically tailored to meet the unique security needs of businesses.
One of the key aspects of commercial locksmith services is the installation and maintenance of access control systems. These systems allow businesses to restrict access to specific areas within their premises, ensuring that only authorized personnel can enter sensitive areas such as offices, storage rooms, or server rooms. A 24-hour locksmith in Glendale, Az, can assess the security requirements of a business and recommend and install access control systems that suit their needs, providing an added layer of protection against unauthorized access.
Choosing the Right 24-Hour Locksmith
Consider the locksmith's experience and expertise. Look for a locksmith with a proven track record of providing locksmith services in Glendale and the surrounding areas. An experienced locksmith will have the knowledge and skills to handle a wide range of lock and key issues efficiently. Additionally, check if they have the necessary certifications and licenses. These credentials indicate that the locksmith has undergone proper training and adheres to industry standards, ensuring quality workmanship.
Take the time to research customer reviews and testimonials. Reading about other people's experiences with a particular locksmith can give you valuable insights into their professionalism, reliability, and customer satisfaction. Look for reviews on reputable platforms and pay attention to feedback regarding their response time, communication, and overall service quality. Positive reviews and high customer ratings are indicators of a trustworthy locksmith who prioritizes customer satisfaction.
Consider the locksmith's response time. Since emergencies can happen anytime, you want a locksmith who can promptly assist you in a time-sensitive situation. Inquire about their average response time and availability, especially during weekends, holidays, and after-hours. A reliable 24-hour locksmith should be accessible around the clock, ensuring that help is just a phone call away when you need it the most.
Conclusion
In conclusion, Old Glory Locksmith understands that security is the key to peace of mind. Exploring the services of a 24-hour locksmith is essential in ensuring the safety and protection of your home, business, and vehicle. With their expertise in emergency locksmith services, residential locksmith services, commercial locksmith services, and automotive locksmith services, Old Glory Locksmith is your trusted partner in safeguarding what matters most. Their experienced team, certifications, positive customer reviews, and prompt response time make them the go-to locksmith in your time of need. Contact Old Glory Locksmith today and experience the reassurance of knowing that your security is in capable hands.